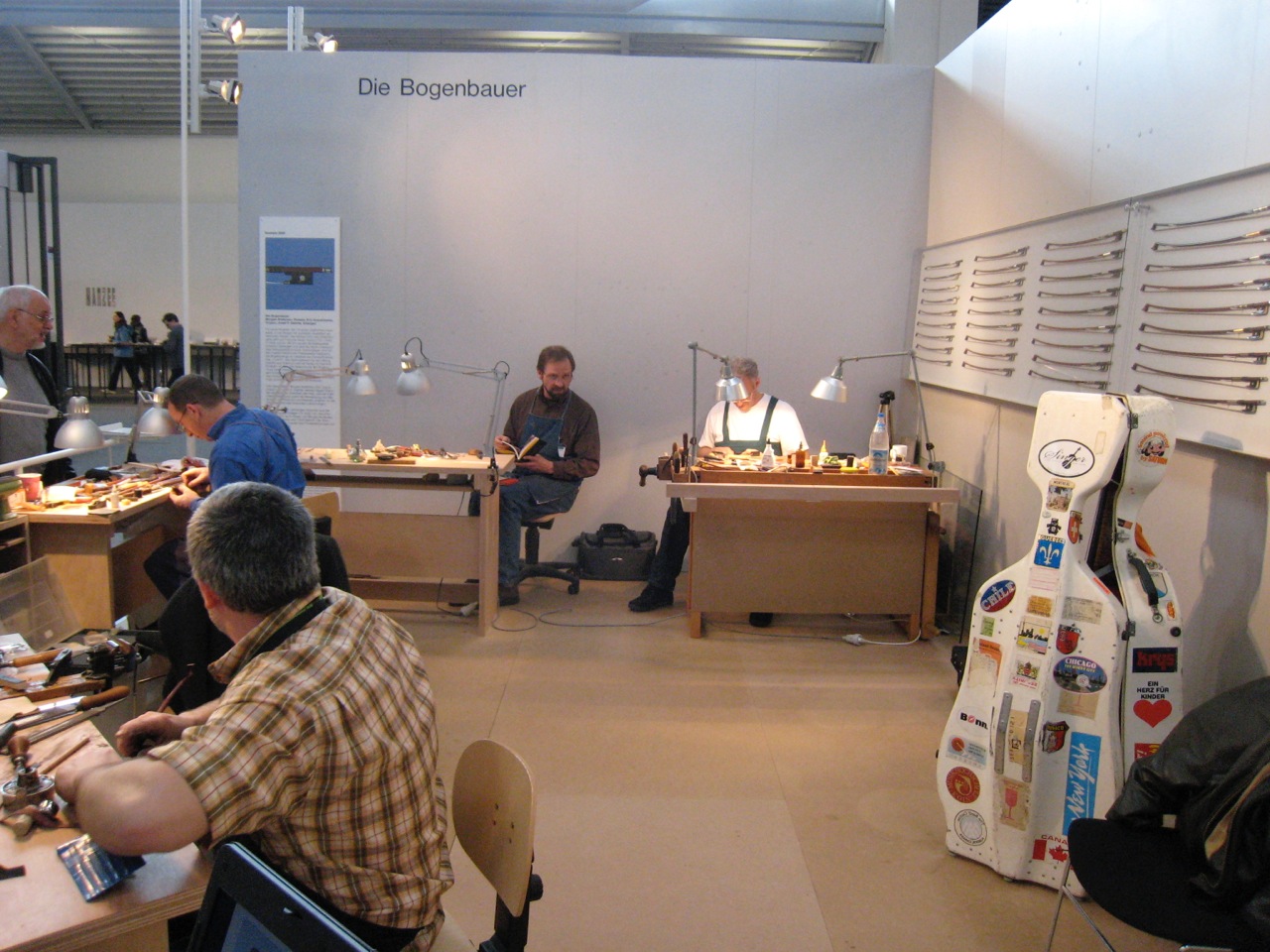 Just several meters next to Stand A1-137 of the SCHMUCK Sonderschau – Exhibition,
Andy Lim is invited to curate on Stand A1-135 of the EXEMPLA Sonderschau
an exhibition on Contemporary Bowmaking of the Violin Family.
Special Show: The Art of Bowmaking
11 – 17 March 2009
This Exhibition highlights 72 exquisite and beautiful Violin, Viola and Violoncello Bows
by ca. 20 of the greatest living makers from 6 nations,
selected by uncompromising workmanship, aesthetical and playability standards.
As special guests Andy Lim invited and welcomes as representatives
of the 3 major schools of Contemporary Bowmaking,
3 of the world best makers and a young talented french bowmaker:
Eric Grandchamp, France
Josef P. Gabriel, Germany
Morgan Andersen, USA
and Christophe Collinet, the first French bowmaker living in Germany (Munich!).
To demonstrate this highly artistic craft, developed since the end of 18th century,
these 4 Bowmakers will make 2 Ebony and 750 Rose-Gold Mounted Violoncello Bows,
from the rough Pernambuco planks to the finished bow,
to be tried out by Andy Lim himself after completion on the last day.
The purely mechanically and thus ecologically separated Gold comes from the Rhine River,
and will be donated by Mrs Jutta Werling from Aurum Rhenanum.
The proceeds of the 2 Violoncello Bows will be donated to Fair Trade Gem Projects in Brazil
and the IPCI (International Pernambuco Conservation Initiative).
Somes images: